Are you tired of manually sorting emails? These top AI email organizer tools automate your inbox so you can save time and find messages quickly.
The average person receives anywhere from 40 to 120 email messages per day. Given everything else going on in most of our lives, we rarely have time to sort, read, delete, or respond to 40 messages daily, let alone over 100. Luckily, artificial intelligence is spreading to every aspect of our lives, including email management.
By leveraging AI algorithms, these email organizer apps can help you declutter your inbox, prioritize important messages, and streamline communication.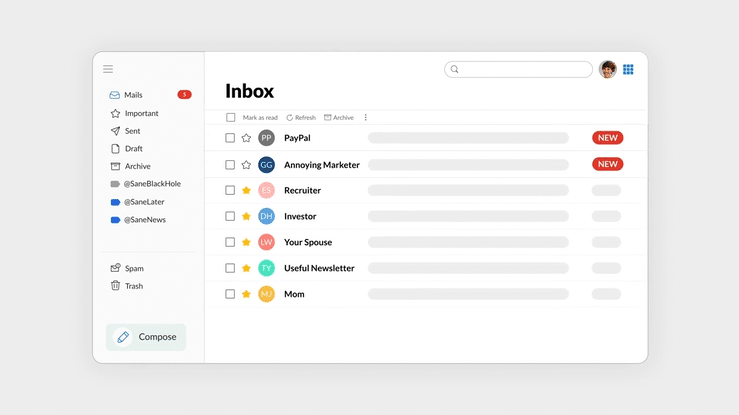 1. Best for Email Management: SaneBox
SaneBox is an AI-driven email management tool that saves the average user up to four hours of time per week by seamlessly organizing and filtering emails. Once you've set up SaneBox, the email management app will automatically classify incoming messages into folders based on their level of importance. This way, you only have to hop into the folders you have time to check and save the rest for later.
By default, SaneBox offers the following folders: Inbox, SaneLater, SaneNews, SaneBulk, and SaneBlackHole. You can stick with these folders or add custom ones. Then, as you move messages, assign labels, or take other actions, SaneBox's intuitive machine learning algorithms observe you and then apply what it learned about your preferred email organization methods.
Additionally, SaneBox offers a variety of other features that make email management even easier. Some of these notable capabilities include SaneNoReplies, which identifies emails you haven't received a response from, Email Deep Clean, which removes old messages, and SaneAtachments, which makes it easy to download attachments in bulk and save them to your preferred cloud storage server. Between all of its features and automation tools, it is easy to see why PC Magazine awarded SaneBox with a five-star review.
SaneBox offers a 14-day free trial for all new users. Then, pricing begins at $7 per month, with discounts available for those who enroll in annual or biannual subscriptions. SaneBox works with any email client, including Gmail, Yahoo, Outlook, etc. It's also compatible with Windows, Mac, and mobile devices.
2. Best Automation Tool: Levity
If you are looking for a way to set up workflows and multi-step automation controls that utilize AI, look no further than Levity. This tool connects your inbox with other everyday work tools and apps so you can harness the power of AI and remove repetitive admin tasks from your daily to-dos.
In terms of inbox management, Levity has the necessary algorithms to automatically process, sort, and label messages as they arrive in your inbox. This feature allows you to do things such as identify and respond to interested leads quicker, as well as sort invoices, contracts, and other important documents. You can also set alerts for things like missed payments.
3. Best Customer Service App: EmailTree
For business-level users who need an AI email organizer that can both sort messages and speed up response time, EmailTree is an excellent choice. The tool's AI capabilities can process and categorize messages, draft responses, and aid in follow-ups.
To use EmailTree, connect the app to your existing email account. Then, EmailTree will scan each incoming message using natural language processing (NLP) algorithms to identify important message details and determine what pre-created bucket to sort it into.
Furthermore, you can program EmailTree to automatically respond to emails that include frequently asked questions or simple requests. The app will track follow-up messages and your team's response times so you can ensure that your company provides the best possible customer service. Finally, EmailTree can remove information from email messages and transfer them as tasks into your existing company workflow or project management system.
EmailTree's pricing is based on the number of conversations you need it to work within a month, and rates begin at $126 per month. It's widely compatible with email clients and Zendesk, plus you can download the EmailTree Chrome extension.
4. Best for Business Email Campaigns: Reply
Reply.io is an inbox organization app specifically designed for businesses that run email campaigns for sales or advertising efforts.
When you sign up for Reply, you add your email campaign data. The app then scans through all email responses you receive to these mass marketing messages and sorts them based on the user's perceived interest. You can then focus on warm leads before spending time on disinterested prospects. In other words, you can nurture relationships that translate into sales without annoying others.
Additionally, you can set up Reply to automatically create tasks for the responses you receive. This way, you don't even have to read every message: you can just receive a to-do list that outlines who requested phone calls, Zoom meetings, or email responses.
Reply does offer a very limited free option, or you can opt for one of their paid plans that begin at $60 per month. Also, Reply is very limited in compatibility — it currently only supports Outlook, Gmail, and Microsoft Exchange.
5. Best for Inbox Zero: Shortwave
Shortwave is an AI-powered email assistant filled with features that help you save time. However, unlike many of the email organizer apps on this list, Shortwave also helps you send messages, meaning you can cut even more corners without using ChatGPT.
Shortwave is designed to help users "reach peak productivity." For instance, the app lets you create bundles of email threads so everything you need is in a single row, not spread throughout your inbox. The app can automatically do this for you, or you can manually take the reins and whip up your own bundles at any time. Furthermore, you can reorganize the order of the messages in each bundle and transfer messages into to-do list items that remove the messages as you check tasks off.
Beyond its sorting capabilities, Shortwave offers some unique AI enhancements to increase productivity even more. With the AI-powered search function, you can get insights from messages in seconds without having to locate the thread and read it all. Also, the AI composition tool will read previous messages and generate a response that not only makes sense in the context of the conversation but sounds like you, too.
A free version of Shortwave with limited features is available. Otherwise, the Standard plan offers everything you'll need for just $9 monthly. However, this app currently only works with Gmail and Google Workspace accounts.
Competitive Summary
If you still aren't sure which AI email organization app is the best fit for you, this competitive summary should help:
SaneBox uses AI-driven email categorization tools to help users save time.
EmailTree makes it easy for customer service teams to organize and reply to messages thanks to machine learning algorithms.
Reply saves sales and marketing teams time by sorting messages based on customer interest.
Shortwave is the go-to app for email summarization and AI-generated responses.
Are You Ready to Let AI Boost Your Productivity?
AI email organizer apps have revolutionized the way we manage our inboxes. These tools leverage artificial intelligence to declutter our emails, prioritize important messages, and simplify our daily communication.
However, these applications aren't the only way AI and machine learning can help maximize productivity. You can also use AI tools to boost your online business, perform tasks for you, and automate workflows. With AI by your side, the possibilities truly are endless.